I have to say, in this millennial era we're living where everything is almost digital, planners will never be replaced by any app you can think of. Creatives will always be creatives, and the busy Bella creative needs a haven for thoughts and routines to help her conquer life. With that being said, I have gathered my top 8 picks for the Best Feminine Planners for the Planner Junkies. These are of course my dire opinion and I have to say that there are tons of amazing and beautiful planners out there just waiting to be discovered.
My Top 8 Chic and Feminine Panners for the Planner Junkies (from best to the very best).
8.
Day Designer
(From $47 and up)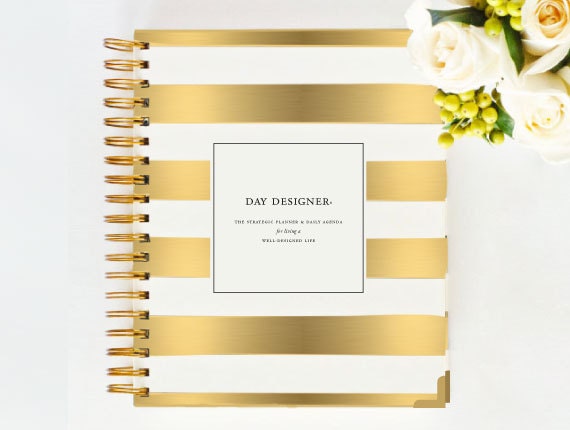 ©DayDesigner
The Day Designer is among the Top 8 Picks I have here for you. As you can see, it is definitely chic and fun. This planner presents with various designs and comes in either the classic spiral hard-bound version or the filofax version. You can check it out at
www.daydesigner.com
.
7.
Erin Condren
(From $55 and up)
Screenshot from Erin Condren
If you are looking for a pop of color in your planner, the Erin Condren Planner is a good bet for you. This is the planner that I have and I pretty much enjoyed using it. Although a little tad pricey for me, it served its purpose of getting me on track. Go ahead and check it out at
www.erincondren.com
.
What I love about it is that it's already colorful which makes me want to write on it all the time. I use the monthly outlook for work and the weekly glance for the rest of what's happening on my life. It's pretty much customizable inside and out. From the spiral wire to the cover - customize as you wish!
6.
STIL Classics
The Design Love Planner is a chic and sophisticated one. I see this as the planner of the sassy bella. With a faux marble cover, who wouldn't love this planner? The inside boasts a minimalistic and monochromatic layout - perfect for the fashion runway bella. Check it out at
www.stilclassics.com
.
5.
Belle De Jour Power Planner
©ilovebdj
The Belle De Jour Power Planner was the first ever planner I owned way back in the Philippines. Unfortunately, you can only buy this in the Philippines. It's very pretty and feminine, with beauty coupons and a lot of other freebies. It also comes with special events of the year that the org holds year round, plus health topics and beauty topics as well. It features a lot of goodies such as a period tracker, contact lists, notes section, yearly goals section, a dream board section, and a whole lot more! If only I could own another one of these, I would definitely buy one!
Check it out at
www.ilovebdj.com
.
4.
Plum Paper
©Plum Paper
Plum Paper is yet another contender in the amazing world of planners. You can order extra add-ons to go with the planner such as fitness tracking, budget tracking, meal planning, and class planning. You can check out their website at
www.plum-paper.myshopify.com
.
3.
Simplified Planner
©Emily Ley
Emily Ley's planner collections are definitely preppy and girly. With all the sailor boats and pineapple graphics and art designs, Bellas couldn't resist!
2.
Limelife Planners
The Limelife Planner is among the colorful, fun, happy, and creative ones I've seen. With playful fonts that go with the product and lots of customization features for an extremely personalized agenda, this planner is definitely two thumbs up. Check it out at
www.limelifeplanners.com
.
1.
Living Well Planner
©Living Well
My top 1 selection for a planner would be none other than the Living Well Planner. It almost has everything I crave for in an annual planner, it's very pretty and colorful, and most of all - it's affordable! Go ahead and feast on this masterpiece at
www.livingwellshop.co
.
There are awesome planners out there that did not make it to my personal list. Take a look at some of them below. I seriously think that they are awesome too.
What about you? What planner are you using?